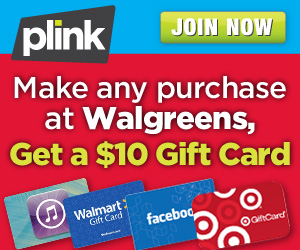 Have you heard of Plink? If not, you're missing out on some great savings potential! Plink is a rewards program that pays you for shopping and eating out at some of your favorite places (like Old Navy, GAP, Outback, Burger King, Dunkin Donuts, and more).
Right now they are offering a FREE $10 gift card to new customers when you make a purchase at Walgreens. Here's what to do:
Register a debit or credit card with Plink.
Use that card to make a purchase at Walgreens before 9/15/13.
You will receive 1,000 Plink points within 7 business days of your posted transaction.
Your 1,000 points can be traded in for a $10 gift card to Amazon, Target, Walmart, Starbucks, Kohl's, or other store of your choice in their rewards center.
This is a GREAT opportunity to maximize your savings at Walgreens! Be sure to check out the Walgreens Deals before you head to the store.
I have talked to many people who have taken advantage of Plink offers. It is a totally legitimate deal, and they are super excited about how frequently they receive points that they can cash in for gift cards! This is a great way to save while you shop and eat at your favorite places.
*Please note that you have to give credit card or debit card information to take advantage of this offer. Plink does have bank level security. If you're concerned about the safety of Plink, you can read more about their security precautions on their FAQ page.